Young Scholars Program: local youth get hands-on with leading-edge research
August 4, 2017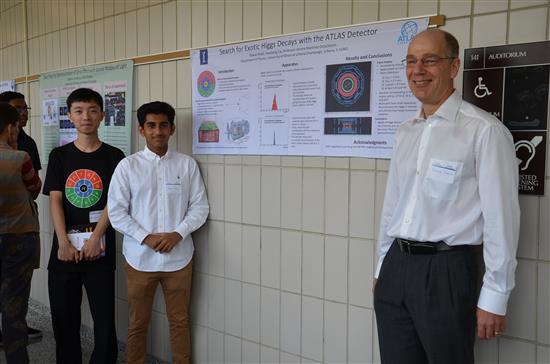 The most intriguing and relevant science happens at the highest levels of scientific pursuit—at major research universities and laboratories, far above and beyond typical high-school science curriculum. But this summer, 12 rising high school sophomores, juniors, and seniors—eight from Centennial and four from Central High School, both in Champaign—had the rare opportunity to partake in cutting-edge scientific research at a leading research institution.
The six-week summer-research Young Scholars Program (YSP) at the University of Illinois at Urbana-Champaign was initiated by members of the Nuclear Physics Laboratory (NPL) group, who soon joined forces with other faculty members in the Department of Physics and with faculty members of the POETS Engineering Research Center.
The fledgling program gave these Young Scholars the chance to discover what it's like to work at the frontiers of scientific understanding—and what it's like to attend a major research university. Some worked in state-of-the-art laboratories, while others focused on computer simulation and theoretical work. Their summer research made contributions to a broad range of physics (9 total) and electro-thermal-power engineering (3 total) projects, such as photon quantum mechanics, dark matter detectors, condensation heat transfer, and 3D power converters, to name a few.
Each scholar was paired with mentors—undergraduate, graduate, and postdoctoral members of the research groups—who in turn benefited from the chance to grow their teaching skillset.
From June 19 to July 28, Monday through Friday, the high school students worked from 9 to 5, each earning a $2000 stipend. The program wasn't residential, so the students were provided MTD bus passes, to facilitate transportation. Participants also got a taste of campus life each day—lunch was provided for both the high-school students and their mentors at the Illinois Street Residence Hall.
According to Professor of Physics Doug Beck, who codirects Young Scholars with Jessica Perez, POETS's associate director of education and inclusivity, the program was initiated in response to the April 22 March for Science, which inspired more than one million people in more than 600 cities around the world to "march" as part of a "grassroots effort to champion science as a pillar of human freedom and prosperity."
"We were trying to think of something that we could do locally that would amount to more than just making a statement on one day," Beck explains. "And we thought that bringing high school students into our labs to show them a little bit about how science was done would be a good thing."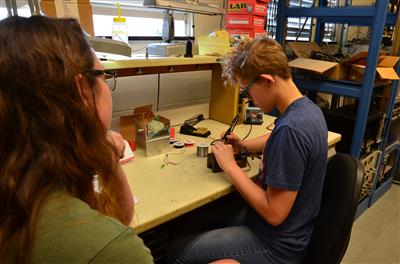 Beck says the goal of Young Scholars was to "provide a program for those young people in our own community who might not have the opportunity to participate in STEM careers and just to allow them to experience cutting-edge science in person, to better appreciate how we ask and answer questions in science."
According to Perez, the Young Scholars Program recruited minority students, with a preference for first-generation students (whose parents hadn't gone to college). Half of the participants were young women (generally underrepresented in STEM fields). The ethnicity of participants is protected by FERPA, but Beck stresses, "drawing from underrepresented groups is a key element of the program."
The program was developed to support the students' comfort levels as they worked on science beyond their own training. In addition to their lab mentors, students met weekly with teachers—Centennial's Jill McLean and Central's Darren Plattner—who coached them on how to navigate a lab and ask questions.
Scholars also attended research talks, workshops, and training sessions on a range of topics, from the college application process to how to present original research. Social events, including an ice cream social, also gave the program participants a chance to interact and share their experiences.
Critical training for scholars and mentors was provided by IRISE Associate Director Sharlene Denos at three separate training sessions, followed by a team-building workshop.
The program culminated in the presentation of research posters at a symposium held on Friday, July 28—to which students, mentors, teachers, and parents were invited.
Physics Scholar Clara Duarte, shares that the program has made her consider physics as a possible career choice: " Everyone in the program was very kind and helpful in teaching me all I needed to learn. After having such a great experience, it will be hard to return to high school, which isn't half as fun. I'm really going to treasure this experience."
Professor Yann Chemla is among the physics faculty members who opened their labs to the program. He shares some of the benefits he sees for the students involved, including his own grad students: "Mentoring a high school student is a lot of work, but it is very important and hugely rewarding for all parties involved. Understanding what working in a lab is like, and how different it is from learning science in a classroom, is enormously beneficial to a student, even if they don't end up pursuing a career in science."
"Also," he adds, "mentoring junior students is a great experience for my lab members. Teaching someone how to do an experiment helps a graduate student learn ways to communicate complex tasks effectively and also forces them to think about the reasons why we do experiments in a particular way. I think mentoring experience is invaluable; it helps graduate students become better scientists."
Physics Scholar Neha Hebbar, a rising junior at Centennial, worked in Assistant Professor Tom Kuhlman's biological physics lab. She shares, "My favorite part of the experience is the hands-on lab work. We're working on transposable elements called 'jumping genes,' trying to image them using fluorescence."
Hebbar's lead mentor, physics graduate student Gloria Lee, comments, "Neha seems to have a real interest in science, so I think getting research experience this early has been beneficial to her. She can see what it's like to work on a real science
problem—successes, setbacks, and all—as well as develop some practical lab skills."
Lee goes on to say, Hebbar has been an asset to the lab. "As an experimental biophysics lab, we carry out procedures that are very hands-on and can be learned fairly easily. I show Neha how to do an experiment and then have her carry it out, so a lot of the progress on my project actually has been made by her."
Physics Scholar Davan Minor, a rising senior from Centennial High School who aspires to work in robotics engineering, shares that his favorite thing was likewise "getting hands-on experience in a lab and getting to work with lasers."
Minor, who researched photon quantum mechanics in researcher Paul Kwiat's lab, says the summer research has gien him a leg up on his high school coursework.
"It's pretty interesting, and there are really a lot of details to the research, so you have to be careful and pay attention when you're working."
Minor's lead mentor, Courtney Krafczyk, a sixth year PhD student in physics, shares why she signed up to be a mentor.
"I just like mentoring people," she explains. "I find it rewarding, and I think it's important to help the next generation come up and help shape the field. Also, I am considering maybe being teacher after I graduate with my PhD, so it's a good experience for me."
Physics Young Scholar Ritu Dave, a rising junior at Centennial High who aspires to a career in mediine or scientific research, worked in Professor Liang Yang's nuclear physics lab with lead mentor Raanan Gluck, researching dark matter detectors.
"The radioactive sources we put in go through the crystal," Dave explains, "then light comes out and we measure it. We're using this to calibrate our detector, so that it can be used to look at dark matter particles."
She continues, "Lab work comes with a lot of setbacks and things that don't go right that you need to fix." she admits. "You need to learn to fix problems and work around the setbacks to get answers. So, one thing I learned is that research answers don't come quickly."
"This is way more hands-on than high school," she adds. "We get to look at our data and decide what to do next. There are no next steps laid out for us—we have to kind of guide the experiment."
Doug Beck expressed appreciation to the other principles, Jessica Perez, and Sharlene Denos, plus many others who helped to make the program a success, including Joe Muskin from POETS/MechSE, Centennial teacher Lindsay Aikman, Erika Olivares and Karissa McDermott at the Unit 4 district office, and Beck indicates they received "lots of critical support" from Physics business manager, Mike Suchor.
In its inaugural year, YSP was supported by ICR funds from a National Science Foundation (NSF) NPL grant, as well as from the NSF-funded POETS, the Department of Physics, and the College of Engineering.